Today is my daughter's birthday. She'll be arriving late tonight with her husband and two of her four children, ready to start over in a new state, closer to family. It'll be tough, but if their experience is like mine, moving to Rhode Island will be the best thing they ever did. The older two children are visiting their cousins before they come out.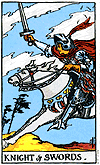 The Tarot card for today is the Knight of Swords.a sharp-minded, direct or idealistic person. A great problem solver, debater and rationalist. Headstrong and impatient. Jumps to conclusions.
Also? Buddy Cianci is running for mayor of Providence. I wasn't in Providence for most of the time that he was Mayor. I know he's well-loved and respected. Even his rivals admit that he loves this city. But he's also been convicted twice, once for assault and once for a Federal felony (racketeering in the Plunderdome scandal). I'll be watching this race closely.