I was so tired last night I went to bed almost immediately after work. I'm awfully tired of being so awfully tired. 10+ hour work days are for younger, braver, more foolish people.
I did watch The Best Years of Our Lives last night. It's on the list of 100 Years 100 Cheers for my 3rd 101 Things in 1001 Days, so I made some progress there.
Three servicemen meet on the return trip to their hometown after World War II. Homer, a Navy seaman, lost both hands in a fire when his ship was torpedoed. Fred, a bombadier, went from soda jerk to decorated air corps Captain during the war, but didn't gain any skills that qualify him for being anything other than a soda jerk upon his return - a job he no longer wants. Al was a banker before the war, and is in no hurry to return to his job right away. He'd rather spend time with his wife and now-grown children.
The film centers on the three men's struggles to adapt to post-war civilian life. Homer's disability is more of a challenge for him than he anticipated, and he's not sure his fiancee or family can cope. Al returns to find his children are grown, with confusingly sympathetic attitudes toward the Japanese Al fought in the war. His wife is unsettlingly independent, and alcohol tastes much better than it used to. Fred had been a newlywed when he left, but his wife has been working in nightclubs and is used to a lifestyle that includes dinners and dancing under the lights, not liverwurst at home. To make matters more awkward, Fred finds himself attracted to Peggy, Al's daughter.
The movie won 7 academy awards, including Best Supporting Actor for Harold Russell (Homer), a former serviceman and amputee who was not an actor. He also won an Honorary Award, making him the only person to win two Academy Awards for the same role, and one of two non-actors to win Academy Awards at all.
It's a feel-good movie that touches on a very serious and timely topic of post-war readjustment. Not a lot of us today understand what the servicemen of post-World War II returned to: a largely changed society where woman were of necessity more independent and self-supporting, and not inclined to give that up just because the men had come home. Jobs were scarce. And even post World War II, there were anti-war people who were not supportive of what the troops were fighting for. It's gritty in the 40s style, while still being a light touch compared to what we'd see today.
------------
Today's work from the art calendar is remarkable to me because of its colors. It's a Tiffany favrile (a type of iridescent glass) bowl from 1908.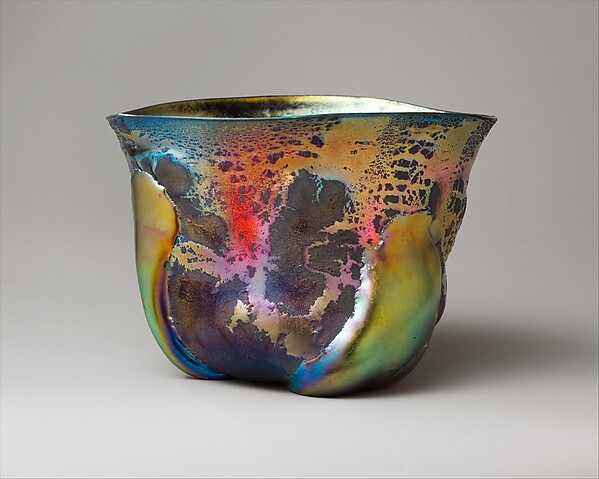 --------------
Today's random Tarot card draw is the 7 of Cups
The 7 of Cups is about choices and fantasies. Maybe it's time to shake things up a little, or try alternative paths to your goal. It also has to do with dreams and altered states of consciousness, and advises against letting your dreams get in the way of healthy development.
So...try something new, but don't let it mess you up. I'll stick with the haircut tomorrow.
Today I'm grateful for:
1. My son got a job! He had to move from Wisconsin to Arizona, but he got one.
2. Sunshine the last few days. The weather is warming up.
3. Milk and cookies.
Today's daily challenge is:
"Share 1 way you save money on entertainment."
We cut cable in favor of Netflix, Amazon Prime and Hulu Plus. Even with all three services, it's still
much
less than basic cable.
Of note in the world:
Looks like there's tornadoes in Missouri, around the St. Louis area. I hope things aren't too bad there.