Sleepy this morning from a late (for me) night at DishCrawl last night (write-up coming soon on
I {heart} Rhody
).
This morning's artwork from my Met Museum calendar is
Vsevolod Mikhailovich Garshin
by Russian artist Ilia Efimovich Repin.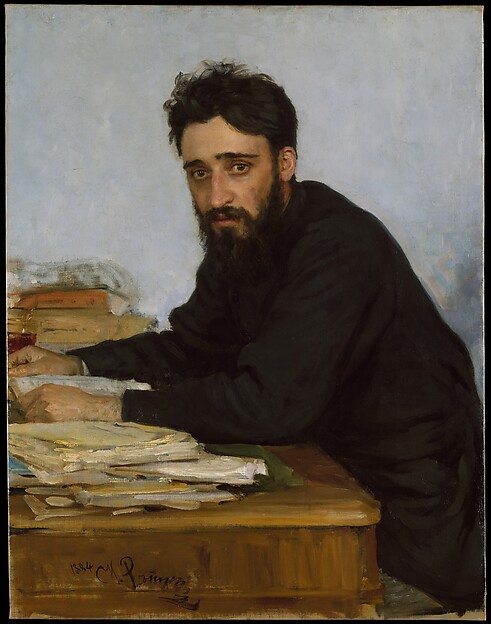 I made this image extra large so you can see the profound sadness in his eyes. It's arresting, and made me want to know more about this man and his story.
From the Met's site:
"The sitter for this painting was the twenty-nine-year-old Russian author Vsevolod Garshin, whose life was scarred by the suicides of his father and brother and his own struggles with mental illness. Garshin published approximately twenty stories, many of which powerfully express his pacifist beliefs, his love of beauty, and his aversion to evil. At the age of thirty-three, he committed suicide by throwing himself down a stairwell."
He also looks remarkably like a young Jon Stewart, no?
Today's tarot card is the Ace of Pentacles. Again, the Ryder-Waite Smith version. Coincidentally also pulled today by my good friend K.
A hand appears out of a cloud holding a huge gold coin. Below is a path leading to a gate in a hedge.
From BiddyTarot:
"The Ace of Pentacles can suggest that we need to introduce something new into the equation. Rather than let things remain as they are, and hope they work themselves out, the Ace of Pentacles suggests you throw something new into the mix."