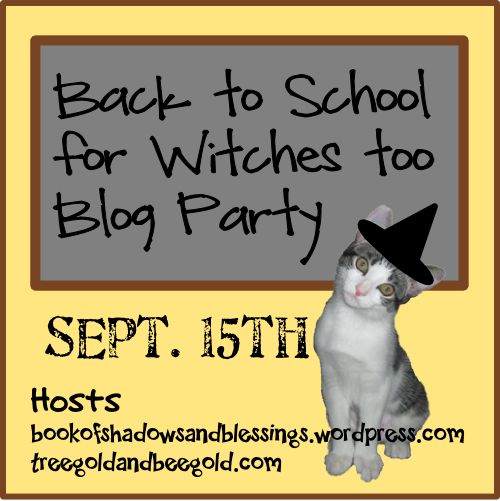 "
Book of Shadows and Blessings
" and "
Treegold & Beegold
" are hosting a "Back to school for witches, too" blog party next month. From "Book of Shadows' site:
Back to School for Witches too
blog party will be
September 15th
. This is the perfect time don your special teaching witch hat and share with the class.
The rules are simple:
Sign up by clicking Mister Linky here.
Post our fabulous button created by Ms Velody on your blog and feel free to invite all the cool peeps you know.
Write a wonderful post on September 15th to teach us all something. Maybe it's your favorite spell or recipe or no fail ritual, or maybe you have a story of a lesson learned you would like to share. Maybe you want to share some basic 101 or 102 lessons from you chosen path or tradition or maybe you want to revisit some of the "basic" teachings and give us your take on them.
Then you can go, visit, and learn!