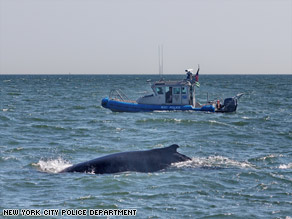 photo: CNN
CNN reports that a humpback whale was spotted near the Verrazzano Bridge yesterday. This happens every few years or so, according to Rob DiGiovanni of the Riverhead Institute.
The whale was probably looking for food. Experts from the Riverhead Foundation said he looked "a little underweight," although it isn't that unusual since he would have made a long journey from the warmer waters further south.
I remember going whale watching when we lived on Long Island, back when Eldest wanted to be a marine biologist. Perhaps I shall take the Bear.
The whale was heading back toward the ocean and merrily on his way, while the Coast Guard formed a safe perimeter around him to keep him from running into maritime traffic.
Link