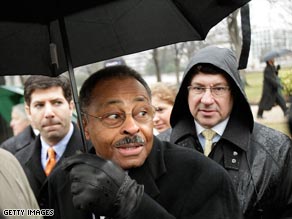 photo: Getty Images
So, Sen. Barack Obama was elected President, which left his Senate seat vacant. Then Illinois Governor Rod Blagojevich allegedly tried to sell the vacant seat. While that's under investigation, Blagojevich (still legally Governor, mind you), appointed former Illinois Attorney General Roland Burris to fill the Senate position. Got it?
Today was the first day of the 111th Congress, so Burris showed up for work. He was refused entry to the Senate secretary Nancy Erickson, who said that his papers were "not in order" because they were not signed by the Illinois Secretary of State, Jesse White. White refused to sign because of the investigation of Blagojevich and possible taint to Burris' appointment. Burris is now asking the Illinois Supreme Court to compel White to sign. Still with me?
Senate Majority Leader Harry Reid agrees that Burris isn't properly credentialed, and isn't making any promises that, even if White signs the appointment, Burris will be allowed in the Senate. Everyone's worried about the tainted appointment, but the doubt is cast on the appointer, not the appointee. Republicans and Democrats are calling for Burris to be allowed to serve.
So the question is, While this whole mess is being negotiated, politicked and massaged, who's representing the people of Illinois in the Senate?
Link to CNN story